ISSE - New English-based Course Launched at Ritsumeikan (vol. 2)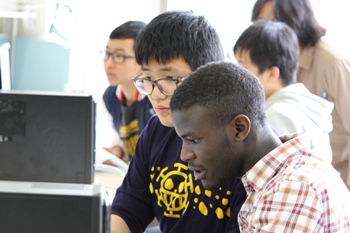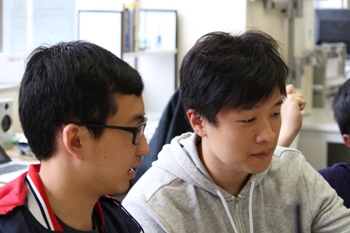 The ISSE (Information Systems Science and Engineering) course, an English-based program at Ritsumeikan University newly established this spring offers not only lecture-based classes, such as, for instance, Computing Mathematics and Artificial Intelligence, but also engineering project-based classes that are a unique aspect of this course compared to traditional educational programs.

This time, we introduce one of the engineering project-based classes, EPBL (Engineering Project-Based Learning) instructed by Associate Professor Ian Piumarta.

In this EPBL class, students are divided into pairs to learn about microcontrollers and how to program them during the first five weeks of the semester. Within each pair, the students use agile development like an industrial engineering development team uses.
Message from Current Students
Here are some of the students' impressions of the ISSE course, including the EPBL classes, as well as their advice for prospective students.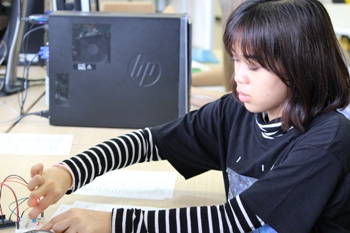 Alaniah Nisrina (1st-year, Indonesia)
- How do you like the ISSE course?
"I am excited with the ISSE course and pretty satisfied with it. Among others, I find the PBL class really fun and interesting, to work in a team and solve the problems. The programs and environment offered by the ISSE course are much more than I expected before enrollment."

- Any advice for prospective students in the ISSE course?
"I recommend you to study basic science beforehand, if you are prepared with that knowledge, it helps you to understand things better and more quickly."


Hitomi Ohmae (1st-year, Japan)
- Why did you choose Ritsumeikan ISSE course?
"I come from Ritsumeikan High School, an affiliated school of Ritsumeikan University. When I was in the first year and second year, I was going to enter the science course at Ritsumeikan University. However, through my participation in overseas study tours, I gradually started thinking about studying at a university abroad. On that occasion, I learned that a new English-based course would be established in Ritsumeikan in AY2017 and chose the ISSE course."

- How do you like your course?
"The most attractive point of the ISSE course is its shared laboratories. Our professors and lecturers are really supportive and we can visit the lab anytime we want to ask some questions, so many students come to the labs when they have no class. The laboratory itself is pretty comfortable. For me, being an ISSE student is like studying abroad over the long term, with classmates having multi-cultural backgrounds."

- Do you have any advice for prospective students in your course?
"The ISSE course offers a very unique program that you cannot find at any university. Furthermore, you can do anything you want, every resource is available to solve many kinds of problems from the immediate problems to the problems in society. If you have the basic knowledge of physics and programming, you will be able to start your study smoothly."
Message from Dr. Ian Piumarta (Associate Professor)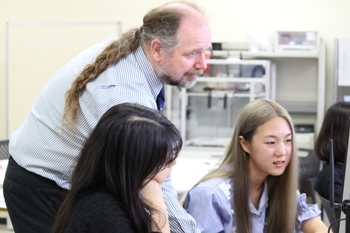 - Do you have any advice for prospective students in your course?
The best way to learn something is to practice doing it. We emphasize building things, both hardware and software, in order to "know" rather than just to "have". Programming ability is not a prerequisite for our course, but curiosity is. Prospective students who are curious, but who have never programmed before, might want to explore programming on their own. Two systems I would recommend for beginners are "Processing", which is a lot of fun while teaching the basics of programming, and "Python", which is the language we study formally in the first year. Both of these are great systems for beginners -- or even more experienced programmers -- for exploring many fascinating ideas in mathematics, science, and art. Getting comfortable with the idea of building something real on your own or as part of a team, in order to explore, understand and master an important principle or technique, is a big part of what this course is about – and a valuable life skill worth learning as early as possible, regardless of whether you decide to come and study with us at Ritsumeikan.
Related information