New Infection Prevention Protocols for the Spring Semester
To ensure a safe and secure campus for everyone, Ritsumeikan University has undertaken a wide range of infection prevention protocols including upgrading its ventilation systems, installing acrylic panels to prevent the spread of droplets, and adopting a contactless temperature sensing system.
In the spring semester, we will implement even more thorough infection prevention protocols to realize an environment where students can meet and learn together while leading fulfilling lives on campus.
Antiviral and antibacterial coatings
We have applied coatings that significantly reduce viruses and bacteria to all major facilities and equipment that are frequently used, including the desks and chairs in all the classrooms, the cafeterias, libraries, gymnasiums, and bathrooms.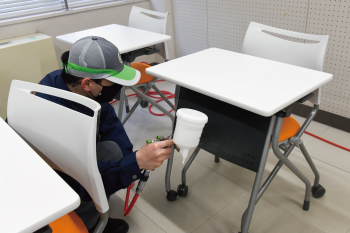 Contact tracing system
The university has instituted its own contact tracing system by affixing QR code stickers to the 50,000 desks on campus. When you sit down, scan the code and register your information. If there is a possibility that you have come into contact with an infected person, the university will notify you.

Registration Method
① Use your smartphone to scan a QR code sticker on a desk.
② Enter you RAINBOW ID and password when prompted.
③ Click "Register" to complete your registration.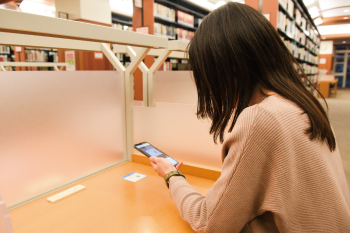 Inquiries
Dedicated email: somuyyk2@st.ritsumei.ac.jp

Suspensions of service for maintenance
・Every morning from 4:30 - 5:30 (2:00 - 6:30 during course registration periods)
・Every Wednesday from 19:30 - 7:00 the following morning (Maintenance may not be performed every week)
・During summer and winter breaks when CampusWeb services are suspended
Improved door knobs
To reduce the risk of spreading infection by touching door knobs with your hands, we have upgraded to hands-free door knobs that let you open doors with your elbows.


We ask all students to refer to the Ritsumeikan University Guidelines to Prevent the Spread of Novel Coronavirus Infections and other instructions from the university and to continue cooperating with infection prevention measures including taking your temperature, wearing masks, washing or disinfecting your hands, and avoiding dinner parties with loud talking.


Past articles on infection prevention measures
Related information