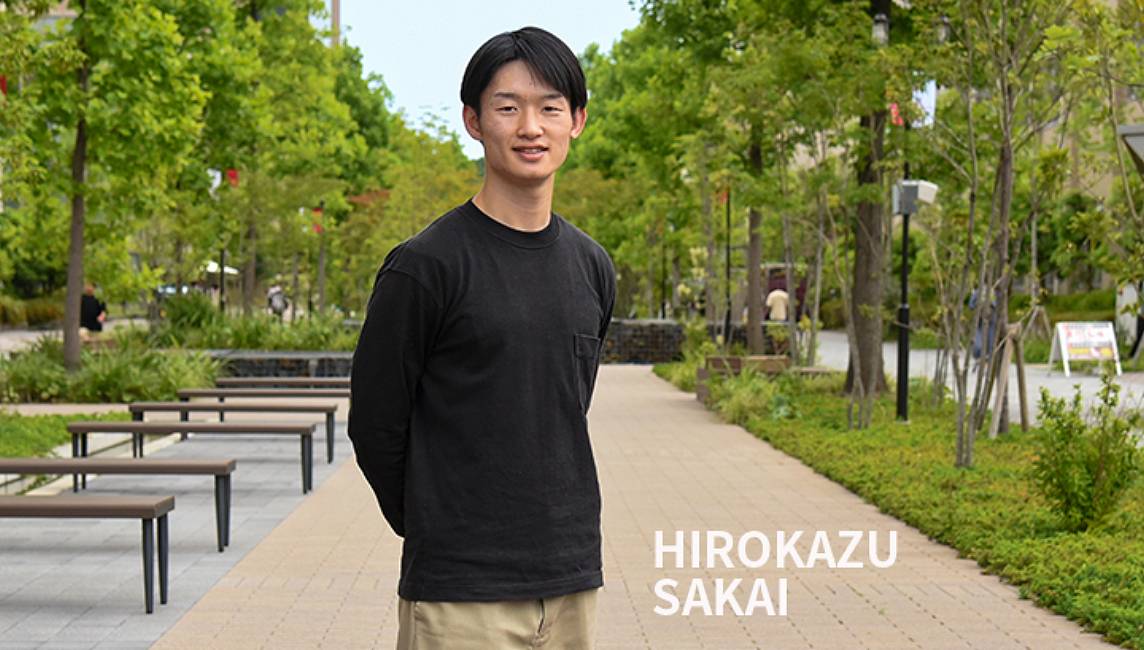 Persistence and the Art of Scoring:Interview with the Winner of the Regional University Futsal Champions League
Hirokazu Sakai, 4th year, College of Sport and Health Science
Futsal, or indoor soccer, is played five-on-five on a court about one-ninth the size of a soccer pitch. According to Hirokazu Sakai, the head of the All.1 Futsal Club, the appeal of the sport lies in the fact that the smaller teams allow individual players to bring their unique talents to the table, so the matches are very intense. Founded in 2007, All.1 has been working toward becoming the number one futsal team in Japan. In 2023, 16 years after its establishment, the team achieved its long-cherished goal by winning its first national championship in the Regional University Futsal Champions League. What kind of team is All.1 and what was their path to victory? To answer these questions, we sat down with Hirokazu Sakai, who, as the head of All.1, has thought about the team more than anyone else.
A major turning point leads to improvement
Sakai has lived and breathed soccer, playing ever since kindergarten. But he didn't start playing futsal until he entered university when the then-coach of All.1 asked him to join the team. "The coach of All.1 had also been the coach of the futsal team at my alma mater, Ritsumeikan Uji High School, so when I left the soccer team, he asked me if I was interested in futsal," recounts Sakai. Once Sakai tried playing futsal, he found it to be enjoyable and decided to join All.1.

In 2022, when he started his third year at Ritsumeikan University, he was appointed as team leader. Since then, he has played a central role as both a manager and a player. We asked Sakai what kind of team he thinks All.1 is. "We are a team where every member takes the initiative to think about what we need to do to win games, and we are serious about what we do."
According to Sakai, there was a major turning point that allowed All.1 to become this kind of team: the resignation of the coach who initially invited Sakai to join the team. Starting in the 2022 academic year, the team had to run itself without a coach. "At first, we were confused, and we ended up losing in many big tournaments. We had no experience in terms of competition and team management, and we performed poorly for about six months," says Sakai looking back on this time. The team had to think about everything themselves and make some big decisions. Not having a coach may seem like a major obstacle, but the members of All.1 used this adversity to grow significantly as a team. "In the past, we simply followed the coach's instructions and left the tactical side of things up to him. Every player now spends a lot more time preparing for matches because we have to do our own scouting of opponents and come up with practice regimens that correspond to our scouting reports. Ultimately, I think this led us all to improve as individual players," explains Sakai.
Coming from behind to win the national championship
It was during this transition period that All.1 joined the Luxperior Cup Regional University Futsal Champions League 2022-2023. Although some of their matches ended in ties, All.1 notched a steady stream of wins in the regional tournament. "As the league progressed, I became more and more aware that it was just us students doing everything, so I began to think carefully about how we should approach our matches and what kind of practice we need to do to ensure good results," says Sakai. With each match, the team continued to improve, and in the end, it found itself competing in the finals of the national tournament, where it defeated the Osaka Seikei University Futsal Club to win the championship. This was the very same team that All.1 lost to in the 2021 regional league tournament. Osaka Seikei University scored two goals in the first half, but All.1 scored three goals in the second half to earn a hard-fought come-from-behind victory. "I still vividly remember when we scored the go-ahead goal. In fact, many of our wins this season were the come-from-behind variety. So, when we took the lead, we were a bit nervous, but we did not give up and fought through to the end of the game. I think we demonstrated our strengths of tenacity and the ability to score at the right time," says Sakai reflecting on the championship. All.1 never wants to lose because are a team that they built by themselves. It was this tenacity that led the team to victory in the national championship.
Aiming to grow even more as a team
All.1's victory in the Regional University Futsal Champions League was just one milestone toward the team's ultimate goal of winning the All-Japan University Futsal Tournament. If All.1 can achieve this goal, it will truly be the number one Japanese collegiate futsal team. "Our goal is to win the All-Japan University Futsal Tournament, as well as the Regional University Futsal Champions League, so that we can continue to be a truly strong team and not just a flash in the pan," says Sakai.

The members of All.1 are constantly training to achieve better results. That being said, they seem to have achieved something more valuable in the meantime. Sakai ended the interview with the following comment. Something my former coach taught me was a quote from a manga, 'We achieved something important before we got what we wanted.' What we want to do is achieve good results in competitions. But more than that, the most important thing for us is the time we spend playing futsal together to achieve that goal."
Profile
Hirokazu Sakai
Sakai graduated from Ritsumeikan Uji Senior High School. He played defense on the soccer team up through high school, but now he plays Pivot (Forward). He uses his strong defensive skills to create opportunities for offensive attacks. After graduation, he plans to continue playing futsal for a company team. In addition to playing futsal, he also enjoys watching professional league matches.