From the secretariat
Asia Week - Here We Come!
The fall semester started last week, and it has brought our university back to life! What's more, for the first time in three years, Asia Week will actually take place live on campus at the OIC (Osaka Ibaraki Campus) on the 23rd of this month. It is even more exciting for us because AJI is going to open its very first booth this year, and right now our planning meeting, led by the next generation of researchers, is finally complete.
Gateway to Asia
OIC, Ritsumeikan's most modern campus, was established in April 2015. It's only 5 minutes from JR Ibaraki station (if you walk fast!), making it the easiest to access from the train station compared to the other three campuses of the University. I'm also a Ritsumeikan alumni, and when I think of the daily 20-minute bike ride I used to do from Hankyu Saiin station to Kinugasa campus, it makes me so jealous. Compared to what I had to endure, rain or shine, OIC is incredibly accessible.
OIC's philosophy is based on three academic concepts: "Gateway to Asia" "Urban co-creation" and "Community and Regional collaboration". The campus's grounds have no fences or gates allowing local residents to visit freely at any time, and on sunny days you can see a lot of people enjoying the park inside the campus. The faculty and staff of OIC are proud to have contributed to creating this campus' unique qualities, which we believe help to provide a welcoming atmosphere for everyone.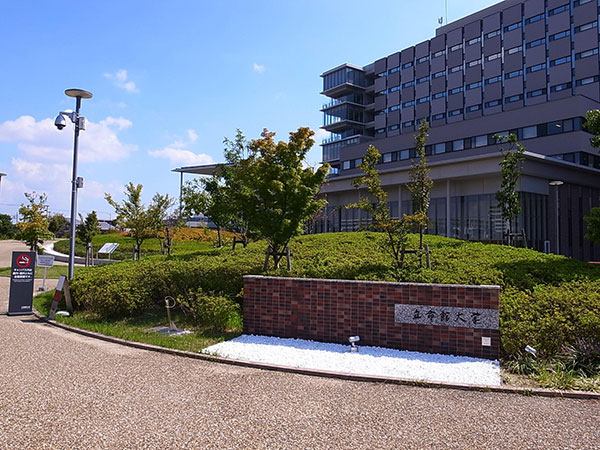 <Although it is called Iwakuramon (Iwakura gate), nearby Ibaraki station, you can't find any gates!>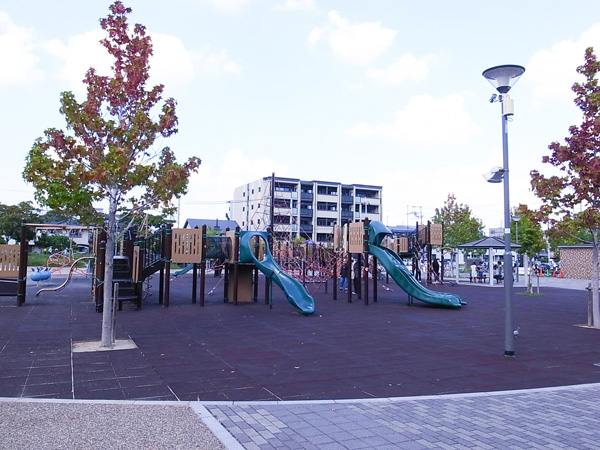 <Kids playing in Iwakura park. It's very heartwarming to pass by during work hours!>

<Spacious lawn square>
Face-to-Face for Asia Week
 Now then, let's talk about Asia Week.
This event has been held annually since 2015, when the campus first opened its doors, in order to fulfill our academic mission to provide a "Gateway to Asia", and share our philosophy of "Urban co-creation" with the society. Unfortunately, due to the COVID, 2020's event was postponed, and 2021's was held online, but finally, now that we are actually holding this event live for the first time in three years, it appears to me that the entire campus is even more thrilled about this event than before.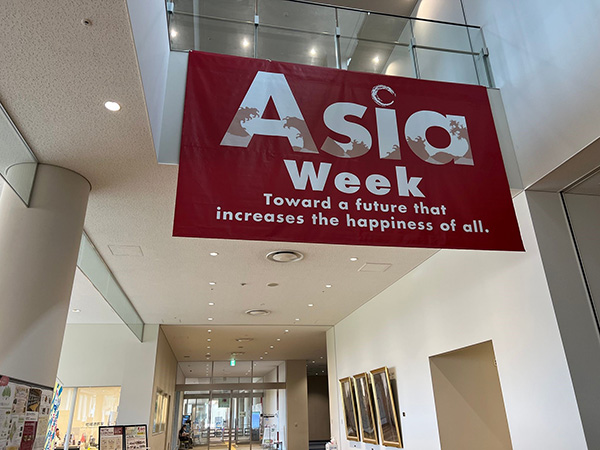 <Asia Week everywhere on campus. Photo taken in front of the OIC library, Building B/2F>
There will be stage performances by the student committee, food stands, booth displays, interactive activities, and there is yet more to be planned. This year is very special for us, because AJI is going to open its very first booth ever. We came to the broad concept during our planning meeting in August that we should make our booth less academic but more entertaining so that children and their families visiting the campus will be able to get a sense of "Asia". Since then, we've continued to have more meetings, and we've finally put all our ideas together and completed our plan

<AJI planning meeting. Members thinking about what to do.>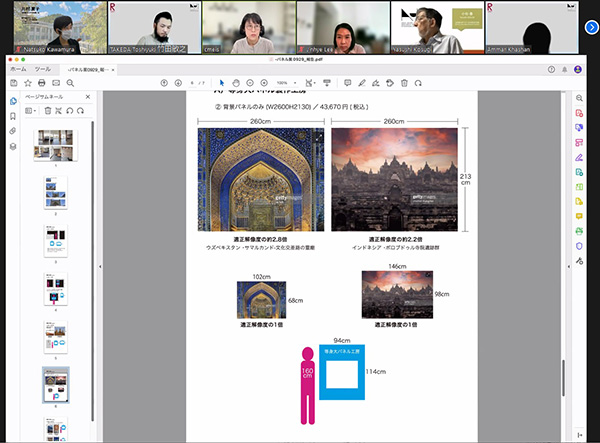 <Members discussing what to display in our booth>
There are just two weeks to go! Please stay tuned for news about what our booth will be offering.
You can register for Asia Week from today, 7th October at 10am, and tickets will be available for first 2,300 people this year. We are looking forward to seeing you there!
Links
Ritsumeikan University Asia Week Special Website (Japanese only)
https://asiaweek.ritsumei.ac.jp/

The OIC Promotional video
https://www.youtube.com/watch?v=MsY1XIoMMHQ

Ritsumeikan festival will be held in December
OIC Festival 2022
http://festival.ritsumei.club/rits-brothers/oic/

Ritsumeikan University is presently holding discussions with the local government and bus companies to try to improve access to Kinugasa campus and BKC by public transportation.
https://ritsumeikanunivpress.com/05/06/3619/
https://ritsumeikanunivpress.com/07/12/10161/
https://www.ritsumei.ac.jp/mng/gl/koho/rs/tanteidan_080430/index.htm

Written by NaKa
Translated by NaKo