JICA Knowledge Co-Creation Program Scholarships, JDS and JDS China Scholarships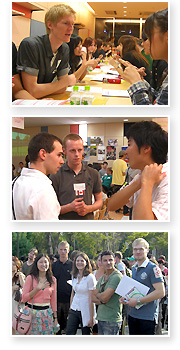 ---
The Japan International Cooperation Agency (JICA) sponsors a number of scholarships, sometimes with an accompanying follow-up internship after graduation, for those interested in pursuing higher studies in Japan. The information on this page describes JICA's Knowledge Co-Creation Program (Long-Term; comprised of the African Business Education Initiative for Youth ("ABE Initiative"), SDGs Global Leaders Course, the Program on Investment Promotion and Industrial Development for Asian Region, and the Project for Future Researchers at IITH to Enhance Network Development with Scholarship of Japan (FRIENDSHIP)), as well as JICA's Project for Human Resource Development Scholarship (JDS), and JICA's Japan Human Resource Development Scholarship for Chinese Young Leaders (JDS China) scholarships. This page also describes the Ritsumeikan University admissions procedures which prospective applicants should follow if they wish to enroll via any of these scholarship programs. For information on other JICA scholarships available at Ritsumeikan, please see our Other Japan International Cooperation Agency (JICA) Scholarships page.
Jump to:

About Each Scholarship
African Business Education Initiative for Youth
The ABE Initiative is a program offered for young Africans in both the public and private sectors with the goal of developing human resources to support the development of the private sector in Africa, and to promote cooperation and collaboration with Japan and Japan's private sector. The program supports participants by sponsoring their enrollment in a Master's degree program at a high level Japanese university followed by a possible 6 month internship at a Japanese organization. For further specific details and for information about the scholarship's objectives, benefits, eligibility criteria and conditions, and to learn about how to apply for this excellent opportunity, please refer to JICA's ABE Initiative homepage.
About the SDGs Global Leaders Course
The SDGs Global Leaders Course is a program for government employees, university professors, etc... from the countries of ASEAN, Oceania, South, East, and Central Asia, South America and Africa. The goal of the program is to raise the potential leaders of the future, and to develop their capacity to assist their countries in meeting their Sustainable Development Goals by allowing participants to earn either a Master's or Doctoral degree at a high-level Japanese university. Further details can be found on JICA's webpage by navigating to the individual homepage for your country from the link below.

JICA Countries and Regions Homepage: https://www.jica.go.jp/english/countries/index.html
About the Project for Human Resource Development Scholarship (JDS)
The Project for Human Resource Development Scholarship (JDS) is a scholarship geared towards highly skilled young professionals (mainly government officials) of countries receiving Japanese Grant Aid who are expected to become future leaders formulating and implementing social and economic development initiatives in their home countries. More detailed information can be found on the official JDS homepage at the link below.

Project for Human Resource Development Scholarship (JDS): https://jds-scholarship.org/
Basic Eligibility Criteria
Regardless of scholarship program, all applicants must:
In general, have sufficient English language ability to complete graduate study in English (CEFR B2 level or greater).
In general, be under 40 years of age as of April 1st of the year of scholarship application.
Meet all other eligibility requirements as designated by JICA and the JICA Regional Office responsible for your region.
Further, applicants for each individual scholarship must meet the following.
To apply for ABE Initiative scholarship, an applicant must:
---
Be a citizen of an African country.
Have already obtained a bachelor's degree or the equivalent.
If from the private sector, have work experience but may not be employed by a Japanese company at the time of travel to Japan, and if from the public sector, have at least 6 months' work experience at current organization.
To apply for SDGs Global Leaders Course scholarship, an applicant must:
---
Be a government official or an academic, with at least 6 months' work experience at current organization.

Further, applicant must be from one of the following countries

Southeast Asia: Cambodia, Indonesia, Laos, Malaysia Myanmar, Philippine, Thailand, Timor-Leste, Vietnam
Pacific: Cook Islands, Fiji, Kiribati, Marshall Islands, Federated States of Micronesia, Nauru, Niue, Palau, Papua New Guinea, Samoa, Solomon Islands, Tonga, Tuvalu and Vanuatu
South Asia: Bangladesh, Bhutan, Maldives, Nepal, Pakistan, Sri Lanka
East and Central Asia: Mongolia, Tajikistan, Georgia
Latin America and the Caribbean: Jamaica, Ecuador, El Salvador, Dominican Republic, Honduras, Mexico, Dominica, Guatemala, Cuba, Belize, Chile, Peru, Costa Rica, Brazil, Paraguay
Middle East/Europe: Iran, Serbia, North Macedonia
Africa: Any of the 49 Sub-Saharan countries




To apply for JDS, an applicant must:

---

Be a citizen of country receiving Japanese Grant Aid.
In general, be employed (in general, working for the government) and have at least 2 years' work experience.

Overall Scholarship Application and University Admissions Schedule

To apply for admission to the university via any of these scholarships, prospective students must first apply to the local JICA Regional Office responsible for their country or region for scholarship, and subsequentially pass JICA's initial screening rounds. Afterwards, those recommended by JICA who meet the criteria in our application guidelines (posted further down this page) may submit an application for enrollment to the university.




| Timeframe | Activity |
| --- | --- |
| Aug- Sep | Prospective students apply to the JICA Regional Office responsible for their country/region for scholarship. |
| Sep - Oct | First Selection at JICA Regional Office (document screening). Those who pass will be allowed to move to the next stage. |
| Oct - Nov | Second Selection at JICA Regional Office (interview screening). Those who pass will be allowed to move to the next stage. |
| Dec - Jan | Third Selection. JICA forwards applicants' scholarship application paperwork to their top 3 preferred universities for informal admissions decisions, and to match applicants with supervisors. If Ritsumeikan was included as one of your 3 preferences, the university will then reply to JICA with an informal Yes or No admissions decision for you. |
| Jan - Feb | JICA notifies applicants of whether they passed the Third Selection and of the informal Yes No admissions decisions from their 3 preferred universities. |
| Apr - May | Fourth Selection (Final Selection) - formal university admissions. If RU gave you an informal Yes decision during the Third Selection, you may now formally apply for admission to the university via the procedures described in the guidelines further down this page. |
| Jun | Admissions results are finalized, and RU will forward them to JICA. Applicants will not receive a separate notification from RU regarding their results. |
| Jun - Jul | JICA will notify applicants of their official scholarship award results, and university placement for those successful. |
| Sep 26 | The Fall Semester begins at RU and successful scholars placed with us begin their formal studies. |

---




Project for Human Resource Development Scholarship (JDS) Admissions for International Relations' Doctoral Program applicants from Vietnam

Attention all Vietnamese JDS hopefuls aiming for Sep 2022 enrollment into our Graduate School of International Relations' Doctoral Program: Thank you to all who applied. For anyone else, the following should be treated as reference only.

---

The following information is relevant for JDS applicants from Vietnam looking to apply for enrollment to the Doctoral Program of Ritsumeikan University's Graduate School of International Relations (GSIR). Other JICA Scholarship applicants should see the separate admission procedures described further down this page.

1. Applicable Graduate Schools

2. Application Guidelines and Forms

Fill out the following application form according to the procedures in the following application guidelines in order to formally apply for university admission as a JDS-sponsored applicant.
*Please download the forms to your computer and fill them out in ADOBE or another PDF viewer. DO NOT fill out in your browser as it may cause formatting errors.

*Your JICA Regional Office may be willing to post your application to the university on your behalf. If interested, contact them directly for details.




3. Deadline

Application Deadline: May 31, 2022

---




Project for Human Resource Development Scholarship (JDS) Admissions for International Relations' Master's Program applicants from Vietnam

Attention all Vietnamese JDS hopefuls aiming for Sep 2022 enrollment into our Graduate School of International Relations' Master's Program: Thank you to all who applied. For anyone else, the following should be treated as reference only.

The following information is relevant for JDS applicants from Vietnam looking to apply for enrollment to the Master's Program of Ritsumeikan University's Graduate School of International Relations (GSIR). Vietnamese JDS applicants seeking enrollment to GSIR's Doctoral Program should refer back to this page on May 17th for the scheduled release of the separate application guidelines and forms for that program. Other JICA Scholarship applicants (including JDS applicants from other countries) should click here to jump to the separate admission procedures described further down this page.

1. Applicable Graduate Schools

2. Application Guidelines and Forms

Fill out the following application form according to the procedures in the following application guidelines in order to formally apply for university admission as a JDS-sponsored applicant.
*Please download the forms to your computer and fill them out in ADOBE or another PDF viewer. DO NOT fill out in your browser as it may cause formatting errors.

*Your JICA Regional Office may be willing to post your application to the university on your behalf. If interested, contact them directly for details.




3. Deadline

Application Deadline: May 31, 2022

---




JICA Knowledge Co-Creation Program (Long-Term) Scholarships (African Business Education (ABE) Initiative for Youth; SDGs Global Leaders Course; Program on Investment Promotion and Industrial Development for Asian Region; the Project for Future Researchers at IITH to Enhance Network Development with Scholarship of Japan (FRIENDSHIP)), the Project for Human Resource Development Scholarship (JDS), and the Japan Human Resource Development Scholarship for Chinese Young Leaders (JDS China)

Attention all Sep 2022 enrollment hopefuls:Thank you to all who applied. After your applications have been reviewed, results will be notified to either JICA, JICE or the Japan Development Service Co., Ltd. (JDS). For anyone else, the following should be treated as reference only.

---

1. Applicable Graduate Schools

For African Business Education (ABE) Initiative for Youth; SDGs Global Leaders Course; Program on Investment Promotion and Industrial Development for Asian Region; or the Project for Future Researchers at IITH to Enhance Network Development with Scholarship of Japan (FRIENDSHIP) applicants:




For Project for Human Resource Development Scholarship (JDS) applicants:




For Japan Human Resource Development Scholarship for Chinese Young Leaders (JDS China) applicants:




2. Application Guidelines and Forms

Fill out the following application form according to the procedures in the following application guidelines in order to formally apply for university admission as a JICA ABE, SGU, Program on Investment Promotion and Industrial Development for Asian Region, FRIENDSHIP, JDS or JDS China scholarship-sponsored applicant.
*Please download the forms to your computer and fill them out in ADOBE or another PDF viewer. DO NOT fill out in your browser as it may cause formatting errors.

*Your JICA Regional Office may be willing to post your application to the university on your behalf. If interested, contact them directly for details.




3. Deadline

Application Deadline: May 10, 2022

---




Additional Supporting Information
Other Scholarship Opportunities
JICA ABE Initiative and SDGs Global Leaders Course Scholarships