China Scholarship Council
Host University Recommendation Scholarships
Chinese Government Graduate Student Overseas Study Program by "The China Scholarship Council"
中国国家留学基金委員会「国家建設高水平大学公派研究生項目」
The application window for September 2022 admission has come to an end - thank you to everyone who formally submitted an application. Screening results are scheduled to be announced to applicants in the late afternoon on Thursday, March 3rd.
The 2022 admission cycle information below should be treated as reference only. Those interested in applying for Sep 2023 enrollment should check this homepage regularly from early November 2022 to catch the admissions update when it is posted here.

---
Application Period: Jan 6 - Feb 3, 2022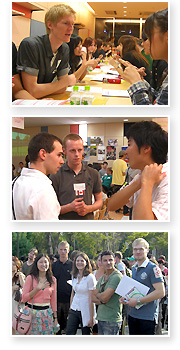 Description:
The admissions procedures described on this page are for Chinese students who are either:
1) Already graduated, or who are scheduled to graduate from a Master's program at a Chinese university by Sep 25, 2022, who wish to complete a Doctoral degree program at Ritsumeikan University, or;
2) Currently enrolled in a doctoral program in a Chinese university, who wish to complete a year of Doctoral level research at Ritsumeikan University.

Admission and tuition fees will be waived for students admitted to the university by the admissions procedures on this page who are subsequently granted scholarship by the China Scholarship Council (CSC). Students will also receive a scholarship stipend and other benefits from CSC (please inquire with CSC directly for details).
1. How to Apply
Please read through the details of the following guidelines to determine your eligibility, to see which of our graduate schools are accepting, and to learn about the application procedures for your desired study program. Be sure to prepare your application materials according to details found in the guidelines and submit your application so that it arrives by the deadline.
Please also view our Researcher Database to find potential research supervisors
Application Documents (All programs and fields)
*Application Guidelines and Forms for programs taught in Japanese can be found here
2. Additional Information
Scholarship Eligibility Requirements and Scholarship Details
China Scholarship Council