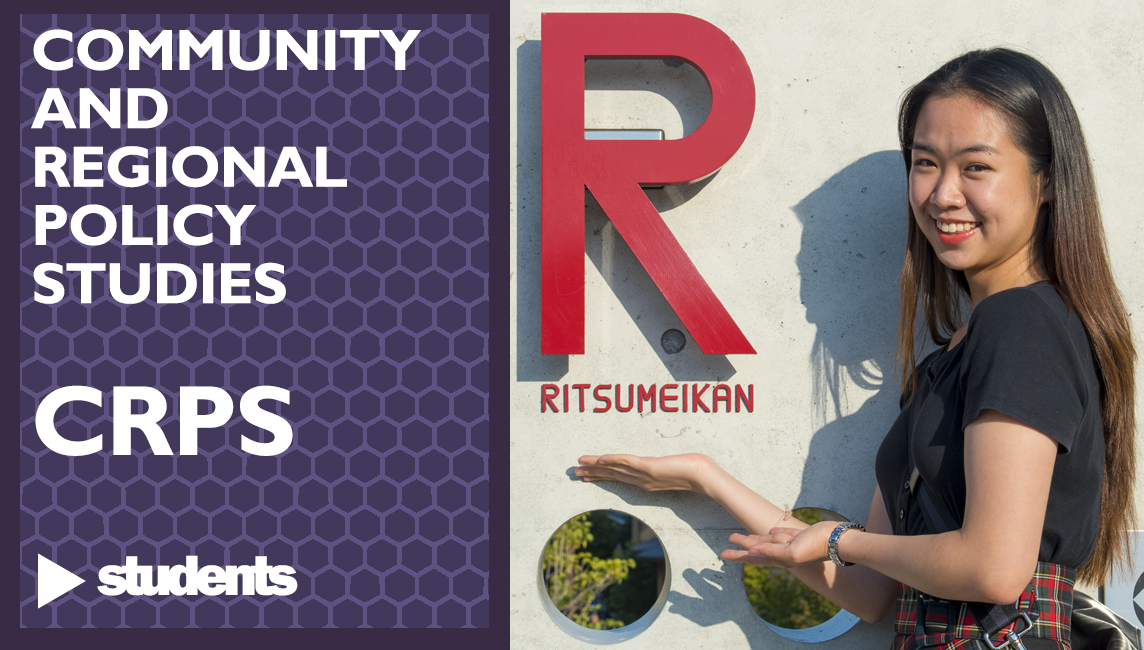 Student Feature 1:Community and Regional Policy Studies - CRPS
Student Experience: Connections Beyond Borders: from Kuala Lumpur to Osaka

Connections Beyond Borders articles aim to introduce English-based undergraduate degree courses at Ritsumeikan University from the personal, everyday-lived perspective of the students themselves.

This Edition Features:
Yoshie Sasagawa from Malaysia - a 4th year undergrad on the Community and Regional Policy Studies (CRPS) Major based in the College of Policy Science at Osaka Ibaraki Campus (OIC).
My mother works in Jasso (Japan Student Services Organization), and so she gave me a lot of information about various kinds of universities. We went to visit a few of those together, one of which was Ritsumeikan University. The courses were in English, I would have the opportunity to study at other universities abroad, like China or Korea, which I thought would be a good option for me to have, and I really liked the environment, and so I thought to myself 'I'll go for Ritsumeikan University!'.
The CRPS Major has really diverse topics that students can learn about, which is why I chose it. It covers fields like the environment, economics, and human rights issues. The course has helped me explore a lot of options and decide on where I wanted to go, which is in the direction of environmental conservation. This was a surprise for me. I didn't know I would be so interested in environmental issues until I took the course.

In year one there were lots of introductory classes. The first semester was really general so we can get our heads around what to expect in the future. There were classes to teach us how to write a thesis, how to do proper citations, how to look up resources for literature reviews, how to use the university collaborative learning system 'Manaba' and so on.

Then, from the end of the first semester of year one, we shifted into more focused territory because we needed to start research into our first on-site research project.

At the end of the first year my group went to Thailand to do this research - interviews, observations, surveys etc.. My group's project was about environmental education, but topics vary, as do locations. Other projects took into account politics, economics, education, and there were projects based in Italy, Taiwan, Korea, for example.
Looking back, it taught me so much about how real life, actual research is done.

Years two three and four have not just helped me to consolidate these practical skills, but they have challenged me academically and have provided me with the opportunity to develop and improve other skills too - spoken and written presentation, group work, negotiation skills and so on.

A very important aspect about classes for me is group discussion and interaction between you and your professor. On the CRPS course, we have smaller classes so we are able to freely ask questions whenever we want. After class we get to talk directly to the professors, or have group discussions. When you have discussions, you get to explore an idea together and, because you talk about it, you remember a lot of concepts – for me that's really important.

We give opinions, we listen to other people's opinions, we come up with a conclusion, or, if we disagree with each other, we might have a debate.

It's the students taking responsibility in a way. Professors are there to advise and teach us what they know, what is relevant, of course; but, if the students think the professor is teaching too quickly, or if there are other topics they are interested in, they can approach the professor and they will sometimes adapt schedules and material. It's very interactive and student-centered.
I have two classes that have had a particularly big impact on me. One is Professor Sakurai's class - he sparked an interest inside me towards the environment and wildlife. And the second one is Professor Hick's class. It was a class in the first year where we learned about human rights issues, about the United Nations and the Universal Declaration of Human Rights.

Before I came to university, I was, of course, aware about human rights, but I wasn't aware for some reason that I had human rights!



Communication and open-mindedness are really important. I've seen people here who were really shy, who don't really talk much, but after a few years, slowly they start speaking their mind. A lot of good things come out of this and we learn a lot from each other.

It doesn't matter if your opinions are right or wrong, it's good that you share it, but we also have to accept when we are wrong – universities are places where ideas, regardless of being right or wrong, flow. Oh, and patience too! Preparing research in a group, before you can do the actual research, requires patience; but then when you get to do what you wanted to do, it's really rewarding.
MORNING

◆Hit the alarm at 07:00 or 07:15◆

BREAKFAST: A weird college student one pot rice with veges and meat cooked together (leftovers will be for dinner)

Go to JR station by bicycle, take the train to Ibaraki and walk to university from there. It takes me 30-40 minutes to get to school from home.

09:00 - 10:30 Japanese class (intermediate II)
10:40 - 12:10 Introduction to Civil law

AFTERNOON

LUNCH: Meet with friends at SALL to eat bento bought on campus

13:00 – 14:30 Go to the gym (1.5hrs)
14:40 – 16:10 Free period - go to Starbucks on campus to do work or relax
16:20 – 17:50 Introduction to on-site-Research
18:00 – 19:30 Go to the library to finish up some work (never good to work at home as I might fall asleep)
19:40 – 21:10 Free period

EVENING

Go home and relax/ watch YouTube videos and prepare for classes the next day. Stop by local bakery or supermarket to get some food or snacks for dinner.

Other evening / free period activities on other days:
Teach English (part time work) / Babysit / Meet with friends to go shopping at Osaka or Kyoto / Indulge in cultural activities provided by the university / Go to the gym


You can find out more about the Community and Regional Policy Studies course via the following link:
https://en.ritsumei.ac.jp/ps/

And more about a growing list of English-based courses at Ritsumeikan University here:
https://en.ritsumei.ac.jp/e-ug/