Student Feature 5:Global Studies Major - GS
Student Experience: Connections Beyond Borders: from Jakarta (Indonesia), to Kyoto

Connections Beyond Borders articles aim to introduce English-based undergraduate degree courses at Ritsumeikan University from the personal, everyday-lived perspective of the students themselves.

This Edition Features:
Gilang Al Ghifari Lukman from Indonesia - a 4th year undergrad on the Global Studies Major (GS) based at Kinugasa Campus in Kyoto
A representative from Ritsumeikan came to my high school when my school held a Japanese education fair. I was planning to apply for a place on an International Relations program at a university in Indonesia, but, having heard about Ritsumeikan University, and how it fitted my criteria for choosing a university (caters to my academic interests, offers an International Relations program, and has an international reputation), I changed my mind.

As a high school student, I actually participated in five or six model United Nations conferences. In 2013 I went to Moscow to attend the conference there (Moscow International Model United Nations) at which I managed to win an award for best delegate, so you might say that my interest in International Relations as a discipline began at a relatively early age.

Choosing international relations through the Global Studies Major is also very much linked to my future career and academic plans. I have recently found out that I have been accepted for a place on the MPhil in Modern Middle Eastern Studies course in the Faculty of Oriental Studies at Oxford University (UK). The course will begin in October 2019, after which I hope to pursue my doctoral degree.

My short term aspiration is to become a member of faculty at a prestigious university in a college or department related to the Middle East or International Relations.
I arrived as an Indonesian student accustomed to Indonesian educational methods and ways of learning. This is very much text based with multiple choice or short answer exams. In contrast, most of the final assessments on the Global Studies Major consist of written work, or in-class exams. Even if it is the latter, however, it is not multiple-choice, but essay based. Not having been trained to write in this way before arriving, it was a challenge for me at first, but introductory classes in the first year helped enormously.

In almost every semester I have taken the maximum amount of credits - ten classes a week of program-related courses and a language course. Language classes are only a requirement in the first year, but can be taken in subsequent years too. Non, or low-level Japanese speakers, as I was when I arrived, have to take Japanese; but those with a high level of Japanese can choose from other languages. All classes are 90 minutes each, which means I have been very busy indeed!

As you progress through the academic years, options widen. In the first year there are many compulsory courses, most of which are introductory. There are classes on computer literacy, academic English, Introduction to Law, for example.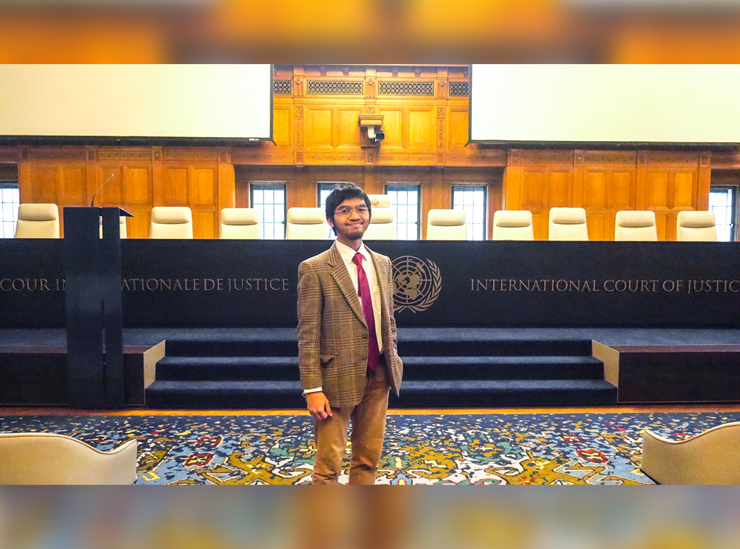 In the second year you are expected to choose one of three core programs * from a choice of Governance and Peace, Development and Sustainability, or Culture and Society.

Of those, I chose Governance and Peace, which covers law and diplomacy – international law, international organizations for example; whereas Development and Sustainability is more about environmental issues, finance, economy and development; and culture and society is more about gender, language and cross cultural communication.

The point of this is that the other courses you then take must relate to these core programs. It does not mean that you can not then study economics or gender, rather that you have to take more classes related to the themes of the core program.

* NOTE: In 2018 the 'core programs' section of the Major was renamed to 'theme culster'. The change was introduced to enable students to exercise even more flexibilty in choosing their core courses. At the same time 'Advanced Seminar' and 'Graduation Thesis' became requirements for all students.
My inspiration to apply for the MPhil in Modern Middle Eastern Studies in the Faculty of Oriental Studies (Oxford) came from the classes I have taken. Of particular importance for me were the classes of a second year course called Global Simulation Gaming (GSG).

The GSG is a semester long course with a difference. It is described as a 'role playing game of international relations', and the whole course works towards a special one-day event at the end of the semester called GSG Day. The start of the course sees students split into groups and assigned a state. My group was assigned Palestine. Importantly, groups are made up of students from both the GS Major and the Japanese-based International Studies course – bringing together students from across the College of International Relations.

Groups are then asked to research the policies and issues associated with their 'state' in the context of a general topic, which in my year was 'Security Issues'; following which they are asked to develop appropriate policies to pursue in negotiations with other 'states' on GSG Day. GSG Day is a day-long 'simulation' class, where all 'states' gather in one large space to act out simulated negotiations with each other with the aim of furthering the cause of their own policies.


In our case, before we began we had to recognize what Palestine wants. We found that one of the primary things Palestine wants is to be recognized at the United Nations as an independent state, and so, to try to achieve this, we prioritized contacting the five permanent United Nations Security Council members first at the start of the day: China, Russia, USA, the UK and France.

The course as a whole and the day itself was a powerful experience for me because it forced me to put myself into the shoes of the Palestinians, which enabled me to develop a sense of empathy with their cause. Whilst other courses give a sense of achievement through attaining a grade at the end of the process, I found the GSG course gave me a sense af achievement for having found a sense of purpose. Meeting and interviewing people who hold perspectives and opinions you have not considered before is very rewarding.

Importantly too, in preparation for the final simulation, I conducted several interviews with respected scholars on the issue of Palestinian independence. I went to see a professor in Kyoto, who is from the Gaza Strip, from whom I gained much insight; and I also attended a special event to which a scholar from Oxford was invited - Professor Avi Shlaim, an Israeli scholar of Jewish-Iraqi origin. Meeting him expanded my thinking on the issues and helped me make up my mind to concentrate on the Middle East for my future research.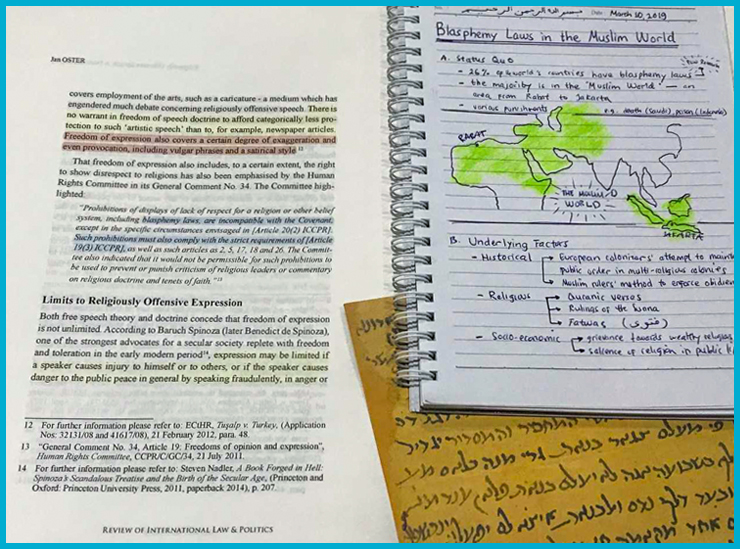 This also inspired me to spend a year abroad, which is optional, of course.

Friends of mine chose universities in the UK, Sweden - there are many options. I chose Leiden University in Holland because it offered classes related to religion and the middle east; and because there is a strong historical connection between Holland and Indonesia. Leiden University also just happens also to be the university that hosts the most amount of scriptures or manuscripts on Indonesia.

I was able to take classes in Sharia, Zionism, Middle-Eastern economy there. It also gave me the opportunity to futher diversify my experience, and to accustom myself to the liberal academic tradition in Europe in preparation for my masters.
I would like to mention an Indonesian proverb, which is:

'di atas langit, masih ada langit'

Translating literally as:

'Above sky, there is still yet more sky'

Meaning, when used in a positive sense, no matter the scale of an achievement, one should always look to improve, challenge oneself and seek to do even better.

MORNING

◆ 5am - Wake up for morning prayer ◆

07:00 - 07:30 Prepare breakfast and bento for lunch

BREAKFAST: I usually eat rice with 'opor' (a coconut milk-based chicken stew)

08:00 - 08:30 Take a shower
08:30 - 09:00 Bike my way to campus

09:00 - 10:30 Business Administration in Japan
10:40 - 12:10 Workout in Gym

AFTERNOON

LUNCH: Most of the time I eat my homemade bento as I can be sure that it conforms to Muslim dietary rules; in addition, it is more budget-friendly. Other times, I eat at the Co-op Cafeteria, which serves Halal food, in the basement of the Zonshinkan building. I also occasionally eat at a Nepali Restaurant in front of the East Gate that serves Halal curry.

13:00 – 14:30 Modern World History
14:40 – 16:10 Weekly study readings - held in the International Relations Lab (5th Floor Koshinkan building)
16:20 – 17:50 Advanced Seminar

EVENING

Arrive home at around 18:30

18:30 Eat dinner
19:00 Night prayer
19:30 Independent study and homework
22:30 Sleep

Other evening / free period activities on other days:
Do groceries, visit a friend's house, study in the library, play billiards, go to Kyoto Prayer Hall (otherwise known as Kyoto Mosque) - located in the basement of Kyoto's Islamic Culture Center (near Kyoto Imperial Palace)


You can find out more about the Global Studies Major via the following link:
https://en.ritsumei.ac.jp/ir/gs/

And more about a growing list of English-based courses at Ritsumeikan University here:
https://en.ritsumei.ac.jp/e-ug/