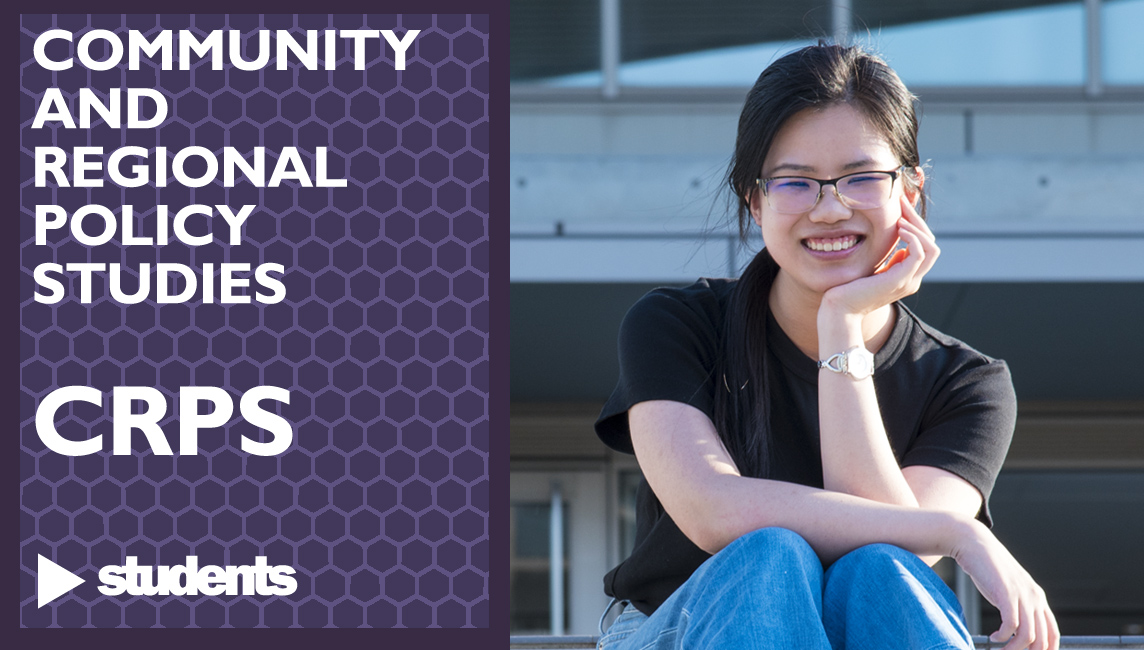 Student Feature 2:Community and Regional Policy Studies - CRPS
Student Experience: Connections Beyond Borders: from Shanghai to Osaka

Connections Beyond Borders articles aim to introduce English-based undergraduate degree courses at Ritsumeikan University from the personal, everyday-lived perspective of the students themselves.

This Edition Features:
Shunfei Xu (Lucia) from China - a 4th year undergrad on the Community and Regional Policy Studies (CRPS) Major based in the College of Policy Science at Osaka Ibaraki Campus (OIC)
Actually, in my final year at high school, I did not plan to go abroad, but because my school - Shanghai Foreign Language High School – specializes in foreign languages (on top of the normal curriculum), a lot of famous universities from the US and Japan came to give their own introduction sessions. My teacher there first suggested that I might be suited to going to university in Japan - she introduced me to Ritsumeikan University, and, since I had already studied Japanese, I thought I would check it out.

I could have chosen a foreign language major at a university in China, but I feel that if you leave your home country and come to Japan, it opens up more options.

When I checked the introduction of Ritsumeikan University, for example, I saw that, if you already have a good level of Japanese, you can still learn multiple languages, whilst choosing from a broad selection of other subjects too – especially when you study in the College of Policy Science. And that is why, finally, I chose RU instead of staying in Shanghai.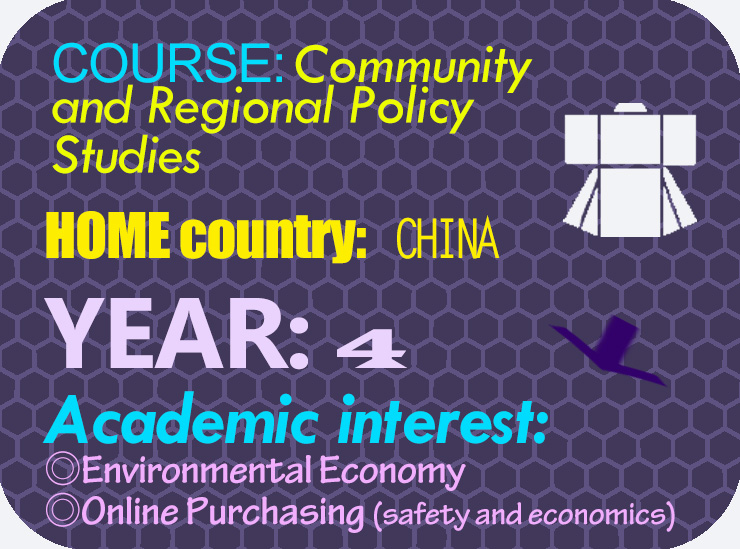 If you ask CRPS students about what they learn, the answer will be very interesting! We learn about economics, law (constitutional and civil), the environment and environmental issues, minority rights, human rights, and even some psychology and philosophy as well.

Each class requires you to think about problems from the perspective of policy, which I personally feel will be very helpful in the future after graduation. When you think about it, so many problems in the world are related to policy.

As a non-native speaker of English, in terms of a CRPS course that stands out for me and helped me make the most progress personally, I would say the 'Policy Science Special Lecture' course, instructed by Lecturer Thorp. It is focused on how to apply political theory to real-life research in the field, but also covers, at the same time, academic and abstract writing for research papers.

It was really hard work for me, because it covered lots of English grammar for reading, writing, and speaking. There was a lot of course reading, assignment writing – even speech practice too; and Lecturer Thorp was strict in that she wanted us to produce good quality work, but she was always available, answering questions in class, or by mail, correcting and explaining any grammatical or logical problems with my work.

In the end, though, I was able to produce a really good quality academic assignment, and give an academic speech in English, and I found the whole process very enjoyable.

Compared to my high school there are less people in every class (my high school classes averaged around 50 students). The least is two, on my Japanese Reading for Policy Science course, and the most is thirty or forty, on compulsory courses open to all students, such as Introduction to Policy Science or Cross Border Policy Issues.

I would say also that class times are longer – 90 minutes compared to 40 when I was a high school student - and the timetable is more flexible.

On the CRPS course, for example, we can register to study courses freely and can choose classes that fit our schedule, which is helpful for students who have regular commitments on certain days - some students choose to attend club activities, others work part-time.

I would say that free and open communication with professors, in most classes, is very different too. We can express our own opinion, and can discuss topics with professors. In seminar classes, or classes with just a few students, the professor may ask us to sit in a circle, so we can have direct, face-to-face communication. All the desks and chairs in campus classrooms are on wheels, so it is really easy to move them (and put them back later too!).

Study is, of course, more specialized than high school.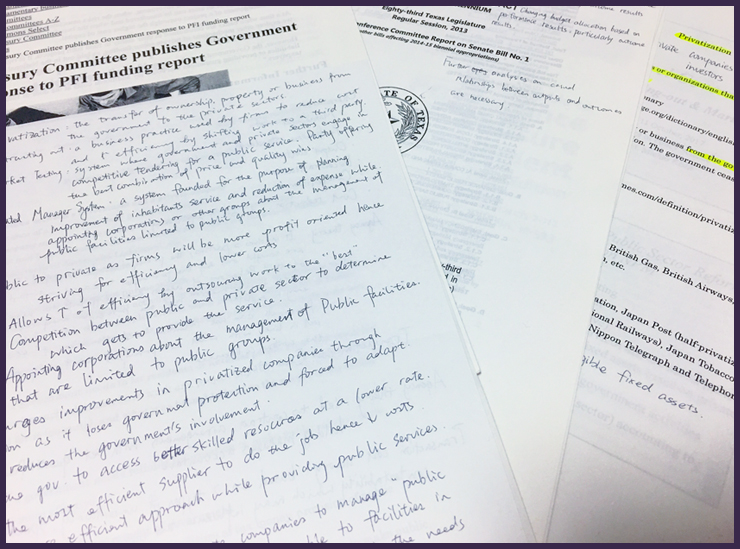 Depending on the class, we also use technology too. For some of the writing classes, for example, we can use our laptop to take notes. In general, we can also borrow tablets from the ICT lab during the day, and there are sets of tablets stored in big classrooms that are available for students to use whilst in the room.



I would suggest that it's important not to stick together with students from your home country too much, because it makes it easier to make friends with other international students and local students too.

In my first year I met Yoshie, for example, and, because we spoke in English together, it began to feel very natural to speak to others in English. I would also say that it's important not to worry about your language level in English or Japanese, it's more important to have the courage to speak up.
MORNING

◆08:00 - wake up and get dressed◆

BREAKFAST: Make myself a nice breakfast - usually toast with peanut butter/avocado and milk. Get ready to leave home for school, if there is first period.

Walk to my local Hankyu-line station, take the train to Minami Ibaraki station and walk to university. It usually takes about 35 minutes to reach university from home.

(An example of an academic day from my first year. I currently have more free periods in order to write my final thesis.)
09:00 - 10:30 Introduction to Academic Research (A guide course to instruct how to write a complete proposal step by step to apply for on-site research, conducted in the next semester.)
10:40 - 12:10 Free period - Study at Starbucks or SALL (a room for resting and self-study)

AFTERNOON

LUNCH: Eat lunch with classmates. The cafeteria not only provides different types of safe and delicious food for local and international students, but there are also lots of kinds of 'bento' (lunch-box) sellers on campus during lunchtime. So, basically, I will eat a bento in SALL, or I may have hot ramen or curry rice in the cafeteria with friends.

13:00 – 14:30 Free period - Study at Starbucks or SALL
14:40 – 16:10 Cross Border Policy Issues (A course that allows Japanese based course students, mainly local students, and CRPS students to make groups and exchange ideas and culture amongst each other, based on different topics introduced by the professor and teaching assistant. Usually we will have a group presentation every other week.)
16:20 – 17:50 Go to the library to do some reading or go home
18:00 – 19:30 Free period
19:40 – 21:10 Free period

EVENING

Dinner with friends at AEON (shopping mall with restaurants near campus).

Other evening / free period activities on other days:
Make myself a nice dinner and get prepared for next day's class / Write essay or assignment / Chat with friends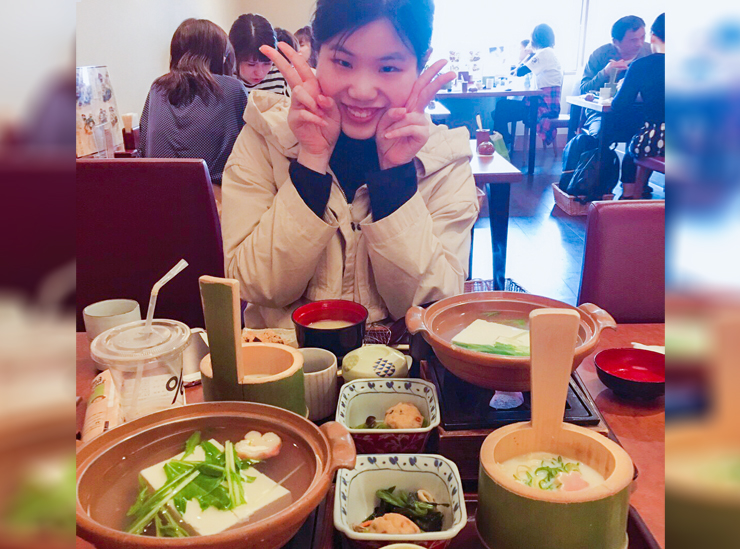 You can find out more about the Community and Regional Policy Studies course via the following link:
https://en.ritsumei.ac.jp/ps/

And more about a growing list of English-based courses at Ritsumeikan University here:
https://en.ritsumei.ac.jp/e-ug/