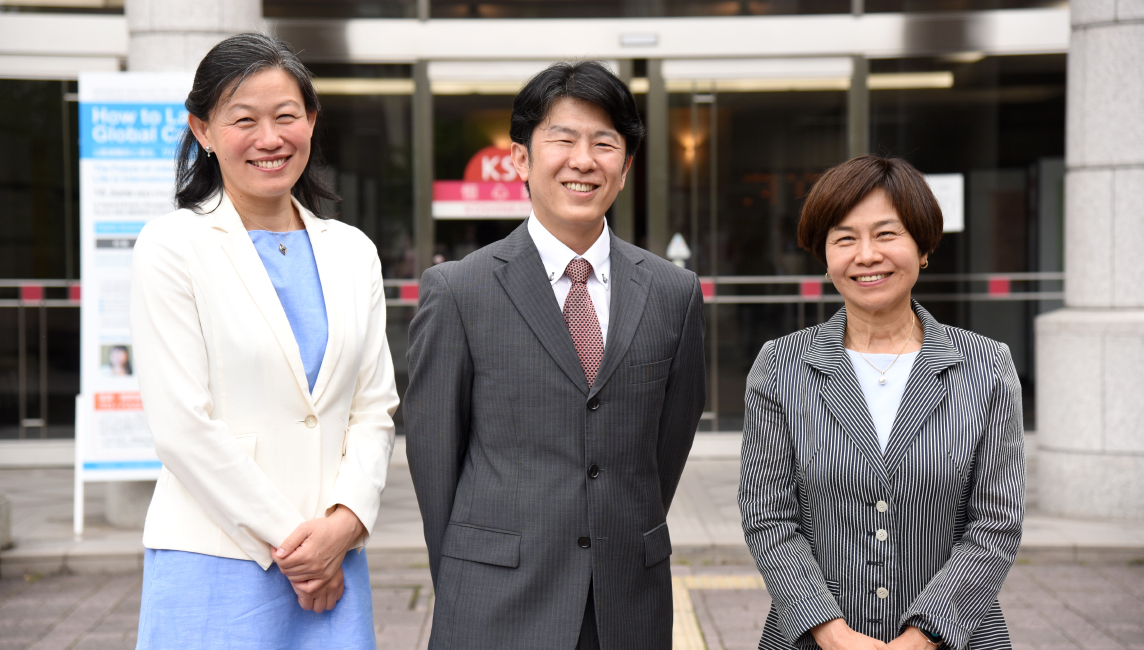 [Visiting Centers of Knowledge] Institute of International Relations and Area Studies:Aiming to realize 'Peace and Democracy' from a global perspective while maintaining roots in the local community
The international community is facing myriad problems, including Russia's invasion of Ukraine, intensifying U.S.-China rivalry, and the conflicts and oppression of human rights that continue to occur throughout the world. In order to establish a peaceful society, it is essential to understand the context as well as the dynamics at play in these issues.

The Institute of International Relations and Area Studies (IIRAS) at Ritsumeikan University is a globally unique research center that combines the two fields of international relations studies and area studies to analyze the turbulent international society. For this article, we interviewed Director Kenki Adachi (Professor, College of International Relations), Miwa Hirono (Professor and Associate Dean, College of Global Liberal Arts), and Sachiko Ishikawa (Professor, College of International Relations).
A research center where international relations studies and area studies intertwine, born in a time of upheaval
The Institute of International Relations and Area Studies (IIRAS) was established in 1988. Professor Adachi talks about how the international situation at the time led to the Institute's establishment.
"In 1988, the Cold War was in its final stages and everyone was beginning to recognize that the international society was undergoing a fundamental transformation. Ritsumeikan University was keenly aware of the social demand for the creation of a research center to collect knowledge on international relations and feed that knowledge back into society to help people better understand rapidly changing international relations.

In order to understand the complexity of international relations, it was essential to have a bird's-eye view of the whole while taking into account the realities of each region. Against this background, IIRAS was established as a research center where researchers from the fields of international relations studies and area studies can collaborate. In order to deepen our understanding of the complexities of international relations and to build a peaceful society, IIRAS, together with the College of International Relations which was established at the same time, has been working together as the two wheels of research and education on international relations."
Area Studies researchers are required to go into the field, learn the local language, and become specialists in the area of their research. International relations researchers, on the other hand, focus first and foremost on the international society as a whole. According to Professor Adachi, the collaboration between the two fields, which have different ways of thinking, did not go smoothly at first.
"There are discrepancies between international relations studies and area studies at the level of terminology and concepts used in research as well as in the perceived purpose of the research. I do not have direct knowledge of those days, but I have heard that it took about 10 years to create an atmosphere where international relations scholars and area studies scholars could discuss issues together. Ritsumeikan's educational philosophy of 'Peace and Democracy' became an important common theme that encouraged collaboration between them. It seems that, since then, a common understanding has developed that we need to work together toward the goal of realizing peace and democracy from a global perspective."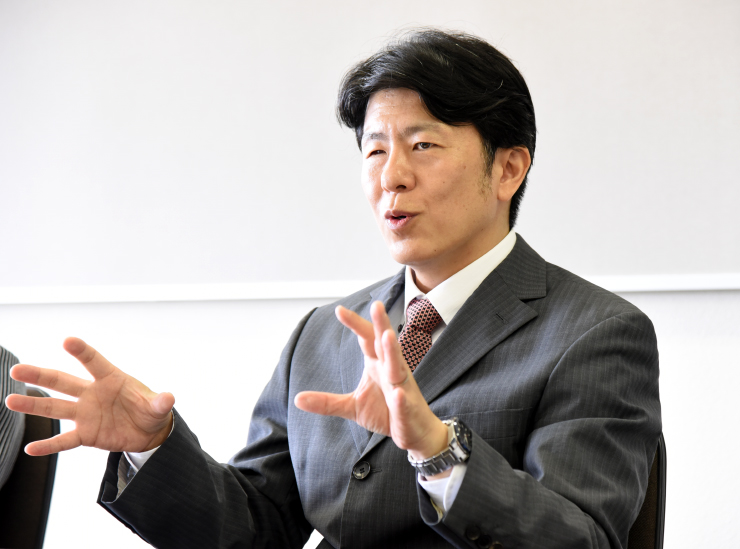 When the world is in a state of flux, knowledge is needed to decipher the present and foresee the future
Although IIRAS had been steadily carrying out research activities to realize peace and democracy, it attracted greater attention from society each time an event that rocked the world occurred. Professor Adachi explains.
"There have been three major events that have drawn attention to IIRAS. The first was shortly after its establishment when the Cold War had ended and there was a great deal of interest in what was happening in the international society. There was a naive belief that the world would be at peace once the Cold War ended, but that hope was dashed. The second event was the terrorist attacks on the United States on September 11, 2001. While major ideological conflicts had disappeared with the end of the Cold War, it became apparent that there still exist extreme differences in the values held by people from region to region, and that they sometimes clash and lead to extreme violence.

The third occurrence was the war in Ukraine that broke out in 2022 and continues to this day. The fact that conventional interstate wars are still possible in the 21st century came as a great shock to researchers. How to create a new international order amid this situation is a topic with which no one can afford to be unconcerned. IIRAS has been responding to media interviews as much as possible, and we have also made efforts to disseminate information far and wide by holding symposiums and publishing the content of these symposiums as books."
At a time when the world is in upheaval, IIRAS has responded to the demands of society by disseminating the knowledge it has accumulated thus far. Now in 2023, according to Professor Adachi, the rise of China is an issue of growing concern. The question of how should we engage with China forms the basis of one of IIRAS' core research projects.
Two core research projects of IIRAS
According to Professor Adachi, IIRAS has developed through three stages. The first stage was the creation of the foundation for cooperation between international relations studies and area studies, the second stage was the development of the strengths of IIRAS's research on democracy and on Asia. And now, in the third stage, IIRAS has been trying to create synergy through further collaboration between international relations and area studies by closely linking the two core research projects, namely "Conflict and Peacebuilding Studies" and "Expanding Chinese Influence and the International Order."
"Since the end of the Cold War, it has been thought that, on a global scale, concerns about war between nations have decreased considerably. Meanwhile, ethnic and religious conflicts and human rights violations by state actors continue unabated. We have divided one of our core projects, the 'Conflict and Peacebuilding Studies' research project, into four units by region to explore what kinds of conflicts and problems are occurring in various parts of Asia and consider what we can do to build peace by exploring the problems unique to each region and commonalities across all four regions. However, the war that broke out in Ukraine last year means we must now rethink interstate war. We are attempting to recapture the full picture of contemporary conflict, peace, and democracy, while also shedding light on those aspects of war that differ from conventional warfare, like information warfare on social media."
Professor Sachiko Ishikawa is one of the leading figures in conflict and peacebuilding research. She is involved in research as a member of the Southeast Asia Unit of the "Conflict and Peacebuilding Studies" research project, and as the Deputy Director of IIRAS, she is primarily responsible for collaboration with external organizations.
"I joined Ritsumeikan two and a half years ago after accumulating many years of practical experience in peacebuilding with JICA and elsewhere. I am currently researching issues of conflict, peacebuilding, and development, with a special emphasis on human security, a concept that emerged after the Cold War.

I believe that one unique feature of IIRAS is, of course, the fusion of international relations studies and area studies, but more than that, its appeal lies in the activities it undertakes to bridge the gap between theory and practice. To realize this, we collaborate with external organizations. In recent years, JICA has established a research center called the Ogata Sadako Research Institute for Peace and Development, and efforts are underway at JICA to lead research on global issues. I believe that IIRAS and JICA could team up to create synergies."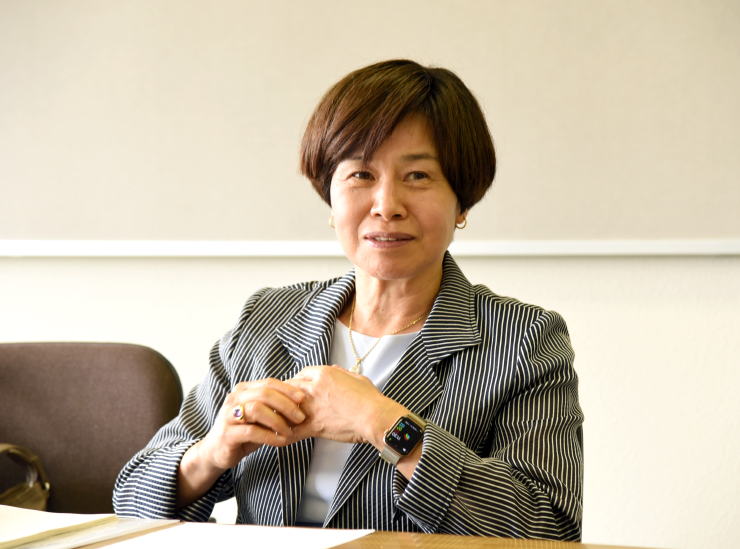 As for the issues being addresses by the other core project, "Expanding Chinese Influence and the International Order" research project, we asked Professor Hirono, an expert in Chinese politics, to respond.
"With regard to China, we are working to integrate international relations studies and area studies from three perspectives. The first is area studies that explores China's economy, industry, and society from an internal perspective. We are focusing on many different areas in our research, but some specific examples include China's economic policy, cultural industries such as the innovation industry and animation, and social welfare policy. The second is transnational Chinese studies. As Chinese companies become increasingly multinational, we are focusing on what strategies they are adopting and acting on outside the country. The third is diplomacy, the study of international relations from an external, or global, perspective, and how China impacts the international order.

One concept related to all three of these perspectives is the Belt and Road Initiative, under which China actively invests in developing countries and other regions with the aim of creating a far-reaching economic zone. In addition to the internal, transnational and global perspectives, this topic is also relevant to peacebuilding, as some of the investment destinations include developing countries that have experienced conflict. The results of our multi-layered research on the Belt and Road Initiative were published in the book What Has the Belt and Road Brought About?"
In addition to the two core research projects, there are several other ongoing research projects that are region- and topic-specific. By bringing together each of these independent projects as a whole, IIRAS has produced knowledge that only an Institute with its breadth and depth could achieve.
Aiming to provide reliable information and values from Kyoto to overcome divisions in society
As the future of the international relations becomes increasingly uncertain, what value can IIRAS communicate to society? According to Professor Adachi, it is necessary to seek views and ideas that distance us from a uniform way of looking at things.
"Our first priority is to realize 'Peace and Democracy,' but as I mentioned earlier, there is no universally accepted definition of democracy in the real world. We believe that our mission is to reduce conflicts and wars and create a world where people can live safely, taking into account the different ways of thinking in each region. In addition, as a center located on the eastern edge of Asia, we are always conscious of the need to relativize Western perceptions and look at the differences between regions. Perhaps Kyoto's location is also suitable to conduct research without much influence from political agendas or power. I think the reason we are approached by overseas research institutions for collaboration is because they value our academic standing."
When asked about what IIRAS would like to focus on in the future, Professor Hirono mentioned knowledge transfer to and knowledge sharing with non-academic communities; for example, companies investing in and trading with foreign countries. Another area that IIRAS would like to focus on is fostering of young researchers with international research skills. Meanwhile, Professor Ishikawa is eager to promote further collaboration and cooperation with JICA and other external actors. In closing, Professor Adachi talked about how IIRAS would like to maintain the vision it has had since its inception and to expand upon it.
"We still have a ways to go in integrating area studies and international relations studies, and we have a big goal of using our research outcomes for real-world conflict resolution and peacebuilding. Furthermore, we still need to work on communicating what we do to the general public. The information available in today's world is a mixed bag, and because people only access the information that interests them, there is a growing divide between people with different attributes and perspectives. In order to change this situation, if even just a little bit, IIRAS wants to be a reliable source of information about peace and democracy."
Related information